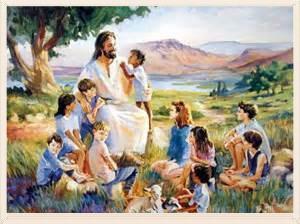 Children's Liturgy of the Word
The following COVID-19 precautions are in place:
* The room will be sanitized prior and after usage.      
* The children will be required to wear masks/face coverings at all times. 
* We are utilizing a larger room to accommodate the social distancing.
* Hand sanitizers will be provided
At the 9:00 AM Mass on Sundays, September through May, during the Liturgy of the Word, the children (PreK-3rd) are dismissed along with their adult catechists to take part in the Sunday Scripture at their level.  Terminology at their level helps them to understand and appreciate the gospel message of Jesus Christ.  It has been noted that the children who attend Mass and participate in the Children's Liturgy of the Word have a more complete understanding of their Catholic Education and are more prepared for the celebration of the Sacraments.